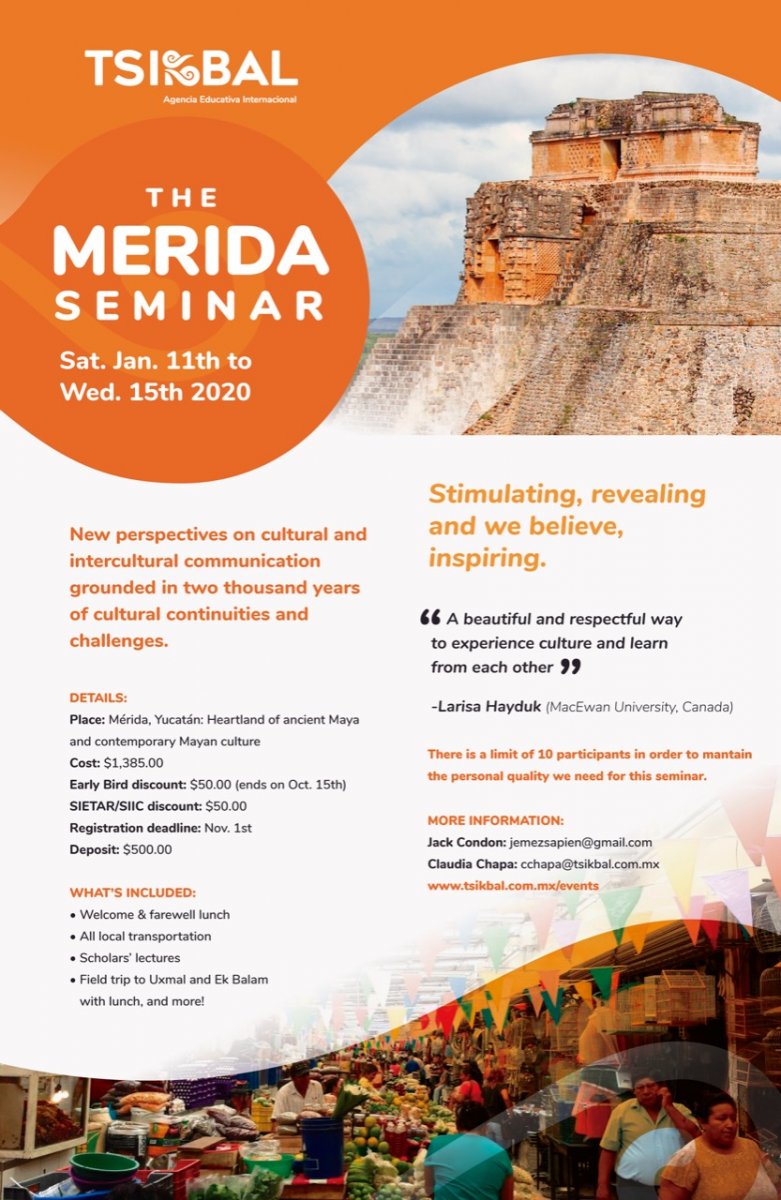 We are excited to offer a new edition of the Merida Seminar in 2020! Our main theme are the cultural continuities and challenges of this wonderful region in the Yucatan state in Mexico and the Mayan culture grounded in 2,000 years.
General information:
Dates: From Saturday Jan. 11th - Wednesday Jan. 15th, 2020
Place: Mérida, Yucatán, the heartland of the Ancient and contemporary Mayan culture.
Cost: $1,385.00 USD
Early Bird discount: $50.00 (ends on Oct. 15th, 2019)
SIIC/SIETAR discount: $50.00
Registration deadline: Nov. 1st, 2019
Deposit: $500.00
We will meet leading scholars and specialists who will present an overview of Yucatán history, from ancient to contemporary times, the shaping of the cultures and the impact of intercultural contact today, including tourism and internationally influenced gentrification.
We will also learn about the Mayan philosophy which is reflected in the Mayan language spoken by millions today in five countries.
Our seminar includes the visit to the ancient archaeological site of Uxmal (a UN World Heritage site), in the company of a local guide attuned to our interests, and seeing continuities in cultural identity and also discover how Mayan and other indigenous languages are taught formally and sustained through popular culture: we'll meet a friend who who raps in Mayan!
We will appreciate the inextricable connection of food, culture and identity in this land of Mayan gods of corn, chocolate and honey. We'll be guided in Mérida's main market, and recommend some local restaurants you can visit on your own.
Our seminar also includes traveling to the city of Valladolid where we will stay overnight, meet scholars at the Universidad de Oriente (www.uno.edu.mx) and learn about current intercultural issues, including the impact of tourism.
Finally we will explore the greatest archaeological site at Ek Balam, regarded by archaeologists as among the most significant and impressive -- and least touristed -- site in the land of the Maya. We will be able to share our reflections of the whole experience at our farewell luncheon in Valladolid.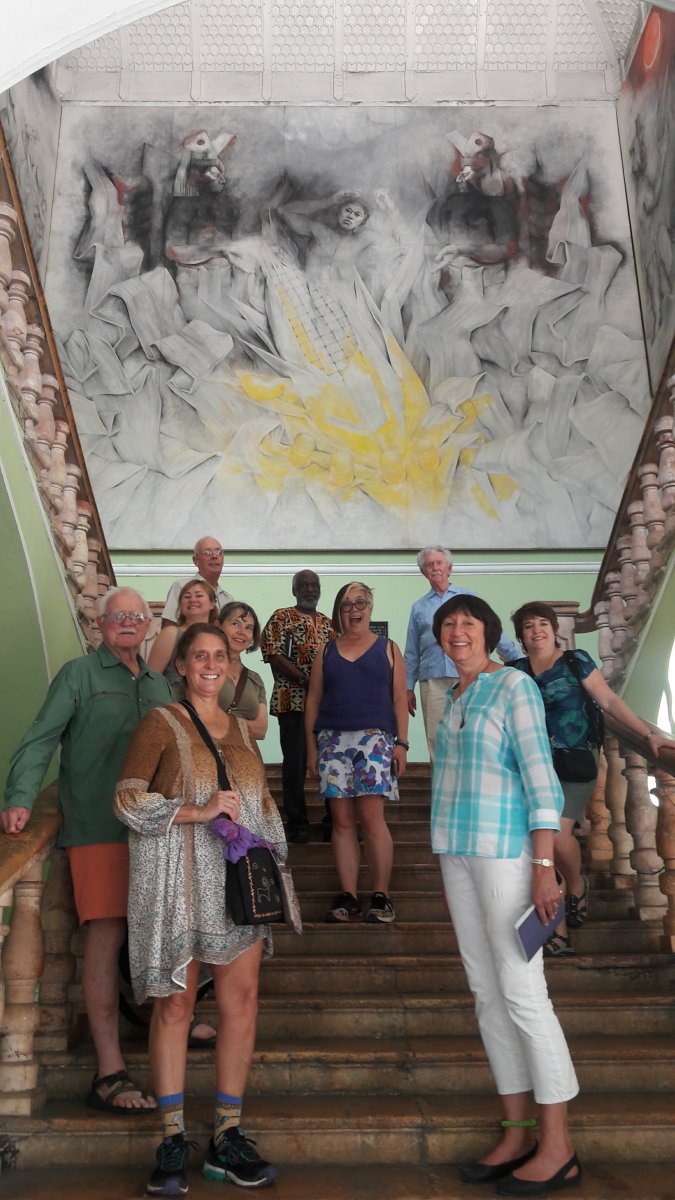 Participants from The Merida Seminar 2019
Logistics
Note that there are many more international flights from Cancún (CUN) than from the airport of Mérida (MID). You might consider arriving at Mérida on Friday and departing from Cancún.
On Saturday Jan. 11th we will start at 9am, so we would advice you to arrive the previous day. On Wednesday Jan. 15th we will finish our day after our farewell luncheon in Valladolid. From there, you may return to Mérida (included in the tuition), or stay in Valladolid a little longer, or choose to go by bus to nearby Chichen Itza, or one of the beach resorts on the Caribbean --Cancún and Playa del Carmen, with ferries to the islands of Cozumel or Isla Mujeres. First class buses depart Valladolid throughout the day for a two hour ride trip to Cancún and Playa del Carmen.
What's included:
*Tuition
*Scholars and guest speakers
*All local transportation
*Guided visits to Uxmal and Ek Balam archaeological Maya sites
*Welcome dinner and farewell luncheon
*Visit Non-profit MUSUM
*One night in Valladolid with breakfast included the next morning
*Visit the Gran Museo del Mundo Maya with bilingual guide
What's NOT included:
*Airfare
*Lodging while in Mérida
*Meals other than the ones indicated above
*Visit UNO (Universidad de Oriente) in Valladolid
Your hosts: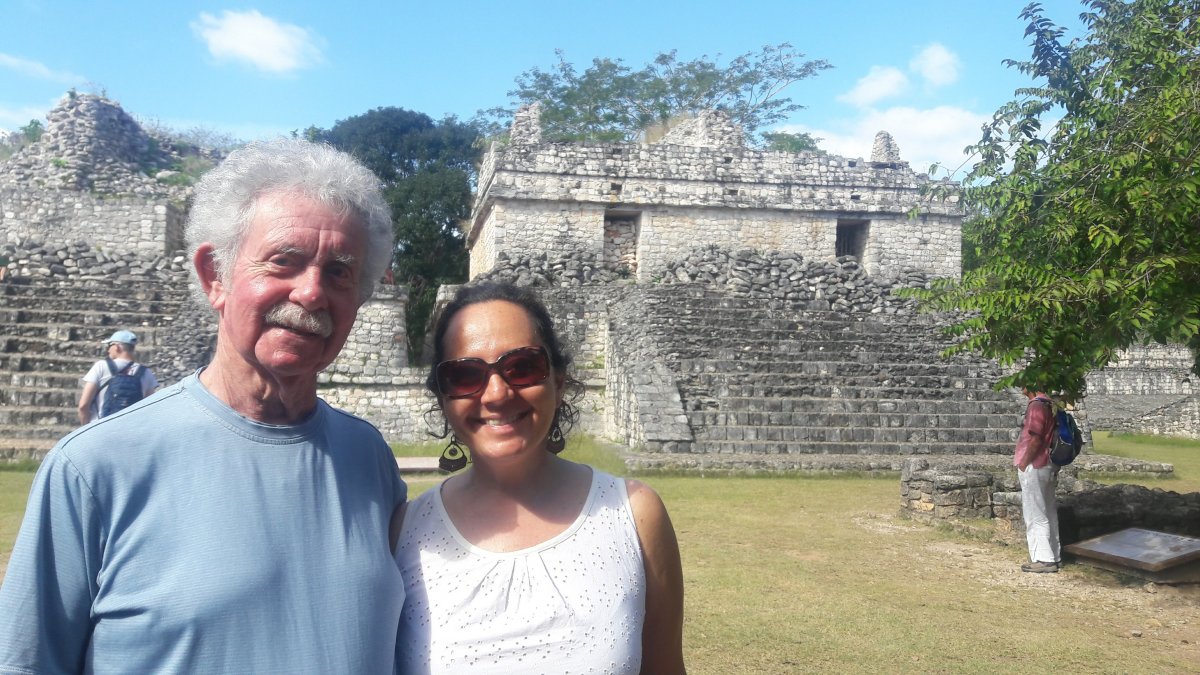 Claudia Chapa Cortés, born and raised in Mexico, lives in Mérida, Yucatán, where she is Director of the International Education Agency, Tsikbal, which in the Maya language means "to have a conversation." Claudia has worked with hundreds of people— including international students coming to Mexico for the first time and their local host families — and often negotiating their lived intercultural communication experience. Claudia can draw upon a personal network of scholars, social activists, artists in popular culture, and ordinary people in local communities who share their challenges and hopes. She has studied and worked in the U.S., Canada, France, and Finland, and in Mexico. Claudia, who works in three languages, has a graduate degree in International Communication from ITESM, in Monterrey, Mexico, and is completing her doctoral research centered on community based projects and service learning.
John (Jack) Condon, regarded as one of the founders of the Intercultural Communication field, is an award-winning educator and author. He was part of the original institute faculty at Stanford Univ. that became the Summer Institute of Intercultural Communication (SIIC) where he has taught for 40 years. A college freshman in Mexico City, Jack returned for doctoral research on U.S.-Mexican communication, one of the first dissertations on intercultural communication. Now emeritus professor at the Univ. of New Mexico, Jack has served on the faculty of Northwestern University and, in Japan, at ICU, and as visiting professor at Univ. de las Américas), Univ. de Guadalajara, and schools in the US, Latin America, East Africa and Asia. For the past three decades Jack has offered seminars and workshops in northern New Mexico.