Join us in this adventure to learn about Cuba through locals, artists, porfessors and scholars!
We know that some of you might be concerned about the new polices the U.S. Treasury Department has regarding visiting Cuba, but we believe there is an option people can still choose, and that probably most U.S. citizens will start to use: "Help the Cuban people". We'll be following the news as the time of our seminar gets closer and will keep you posted.
We want to provide an in-depth vision of Cuba and facilitate an authentic experience through dialogue and exchange with all people we encounter. We will have time to discuss, reflect and debrief as part of our program.
Our final itinerary will be shared in a couple of months but we can tell you we will be most of the time in Havana where we will visit museums, local hip hop musicians (check video below) and scholars who will give us their perspectives on certain inseparable intercultural topics from Cuba today. We will have an overnight field trip to Cienfuegos where we will visit a group of artists who will share with us what they do. You don't have to speak Spanish, translation will be always available.
Your hosts: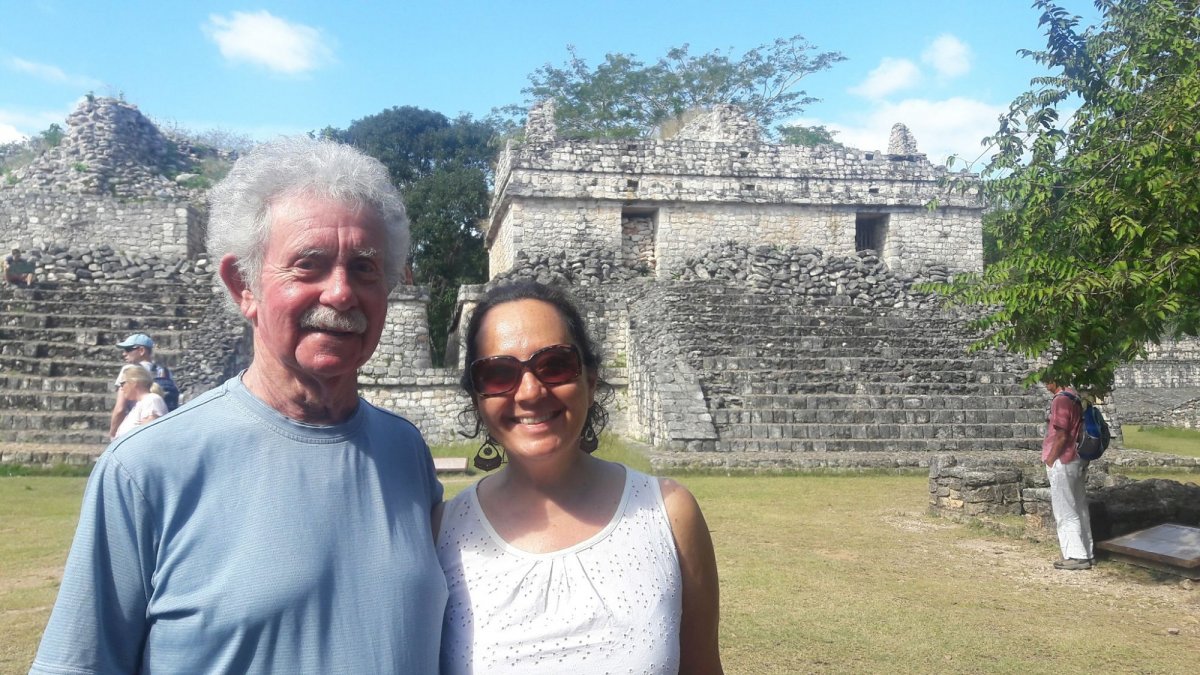 Jack and Claudia at archaeological site Ek-Balam in the State of Yucatán, México during the Mérida Seminar, January 2019
John (Jack) Condon, regarded as one of the founders of the field of Intercultural Communication, was one of the founding faculty at Stanford University that later became the Summer Institute of Intercultural Communication (SIIC) where he has taught for over 40 years. An award-winning educator and author of 20 books, Jack began college as a 17 year old freshman in Mexico City and later returned for his doctoral research on U.S.-Mexican communication. Now emeritus professor at the University of New Mexico, Jack also taught at the University of Guadalajara, and was on the faculty at Northwestern University and in Japan at International Christian University and later at Ritsumeikan Asia Pacific University. For many years he has offered peripatetic seminars and workshops in northern New Mexico.
Claudia Chapa Cortés, born and raised in Mexico, has her home in Mérida, Yucatán, where she is Director of the International Education Agency, Tsikbal, which in Maya language means "to have a conversation." Claudia has welcomed and challenged hundreds of people— including international students and their Yucatecan host families — in their intercultural communication experience. A former exchange student herself, in the US and Finland, and with professional experience in Canada and France, Claudia is fluent in three languages. She has been organizing academic courses and seminars in Cuba since 2013 and has many contacts in the Cuban academic, political and intercultural arena. Claudia is deeply engaged in the local communities, their challenges and hopes. With a graduate degree in international communication Claudia is completing her Ph.D. in education and invites us into the real world that grounds her work.
We want to keep our group size small in order to maximize our personal interaction with the Cuban people we'll be meeting. We need a minimum of 10 persons and a maximum of 15 people.
Dates: December 16th – 22nd 2019
General cost: $1,800.00 USD per person: that includes pretty much everything but your airfare, visa, insurance and taxi from the airport to our lodging at private homes. If you are alums of the Mérida Seminar, SIETAR or SIIC your cost is: $1,700.00
Deposit: $500.00 before the 1st of September, 2019
Final payment: October 15th, 2019
If you wish to pay the full amount at once and you have a discount (because you're SIIC, SIETAR or Merida Seminar alumni), please contact us at cchapa@tsikbal.com.mx so we can send you a receipt and instructions to do so. The system doesn't allow us to apply discounts.
Please share the Seminar information with who you think might be interested.